Casa Pacheco
Olhão
CATEGORIA

/ CATEGORY

: Habitação / Habitational
TIPO

/ TYPE

: Reabilitação / Rehabilitation
LOCALIZAÇÃO

/ LOCATION

: Olhão
DATA DE CONCLUSÃO

/ COMPLETION DATE

: 2016
Engenharia

/ Engineering

: Guida Gomes Engenharia
Situado em plena Baixa de Olhão, a Casa Pacheco é uma típica casa de pescadores no Bairro dos 7 cotovelos. Durante os anos 90 foi mais uma vez sujeita a alterações, o piso superior foi ampliado e a maioria das características tradicionais e originais foram cobertas ou removidas, pois o conceito estético dessa Era considerava "antigo" como "feio". 30 anos depois, pretende-se reverter a "modernização" dos anos 90, limpando as fachadas e removendo todos os materiais usados para ocultar as estruturas originais. As janelas anteriormente entaipadas serão reabertas, as divisões internas adicionadas serão removidas, as escadas serão reorganizadas e os espaços serão ampliados. Ao abrir a fachada o máximo possível para o exterior, procura-se trazer luz e ventilação, melhorando a qualidade de vida numa propriedade que antes foi composta por vários quartos interiores sem janelas. Como a Casa está inserida na área histórica de Olhão, os materiais utilizados na reconstrução são cuidadosamente escolhidos e obedecem a padrões similares aos de edifícios históricos. Desta forma, todas as janelas e portas são de madeira maciça, todas os revestimentos de parede são de cal, todos os pavimentos são terracotas tradicionais e todas as pedras são locais. A grande maioria dos materiais é assim local e produzida à mão, um esforço levado a cabo não só pela vontade de restaurar este edifício a sua beleza original, mas também de alimentar a indústria que ainda nos fornece esses materiais preciosos.
Located in the heart of Olhão Historical Center, Casa Pacheco is a Typical Fishermen House in the Bairro dos 7 cotovelos. During the 90's it was once more subject to alterations, the top floor expanded and most of the traditional and original features were covered or removed as the aesthetical concept of that era considered "old" to be "ugly". 30 years later we intend to revert the "modernization" of the 90's, cleaning up the facades and removing all the materials once used to hide the original structures. Windows that were once covered will be reopened, added internal divisions will be removed, stairs will rearrange and spaces will be widened. By opening up the facade as much as possible to the exterior we bring in light and air, hugely improving the living quality to a property that was once composed of multiple indoor rooms with no access to windows. As the House is enclosed in Historical area of Olhão, the materials used in the reconstruction are carefully chosen and obey to similar standards as listed buildings. Therefore all windows and doors are of solid wood, all wall renders are limestone, all pavements are traditional terracotta and all stones are local. The vast majority of the materials is local and produced by hand, an effort undertaken by not only the will to restore this building to its original form but also to feed the industry that still supply us with this precious materials.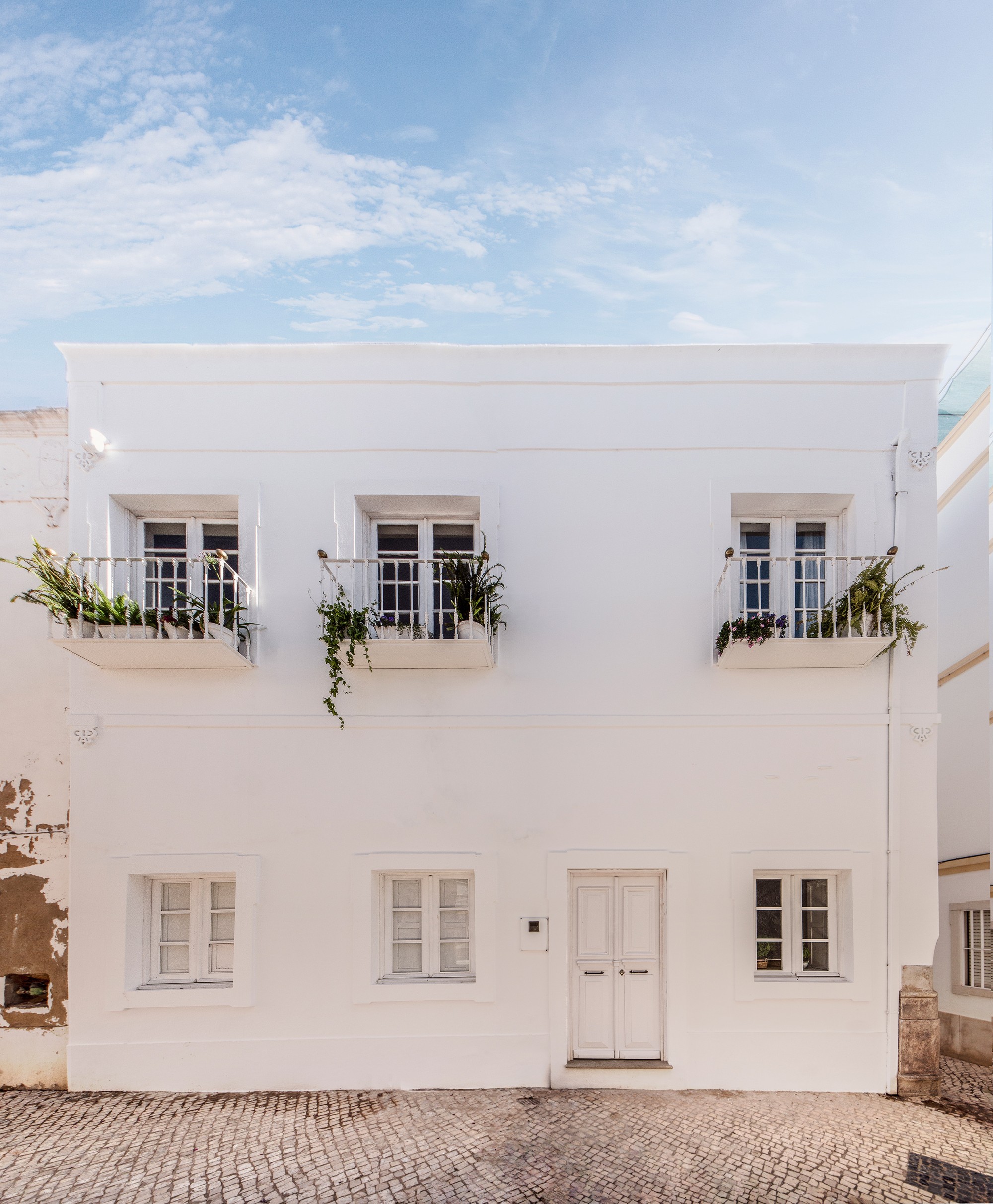 Rehabilitated Exterior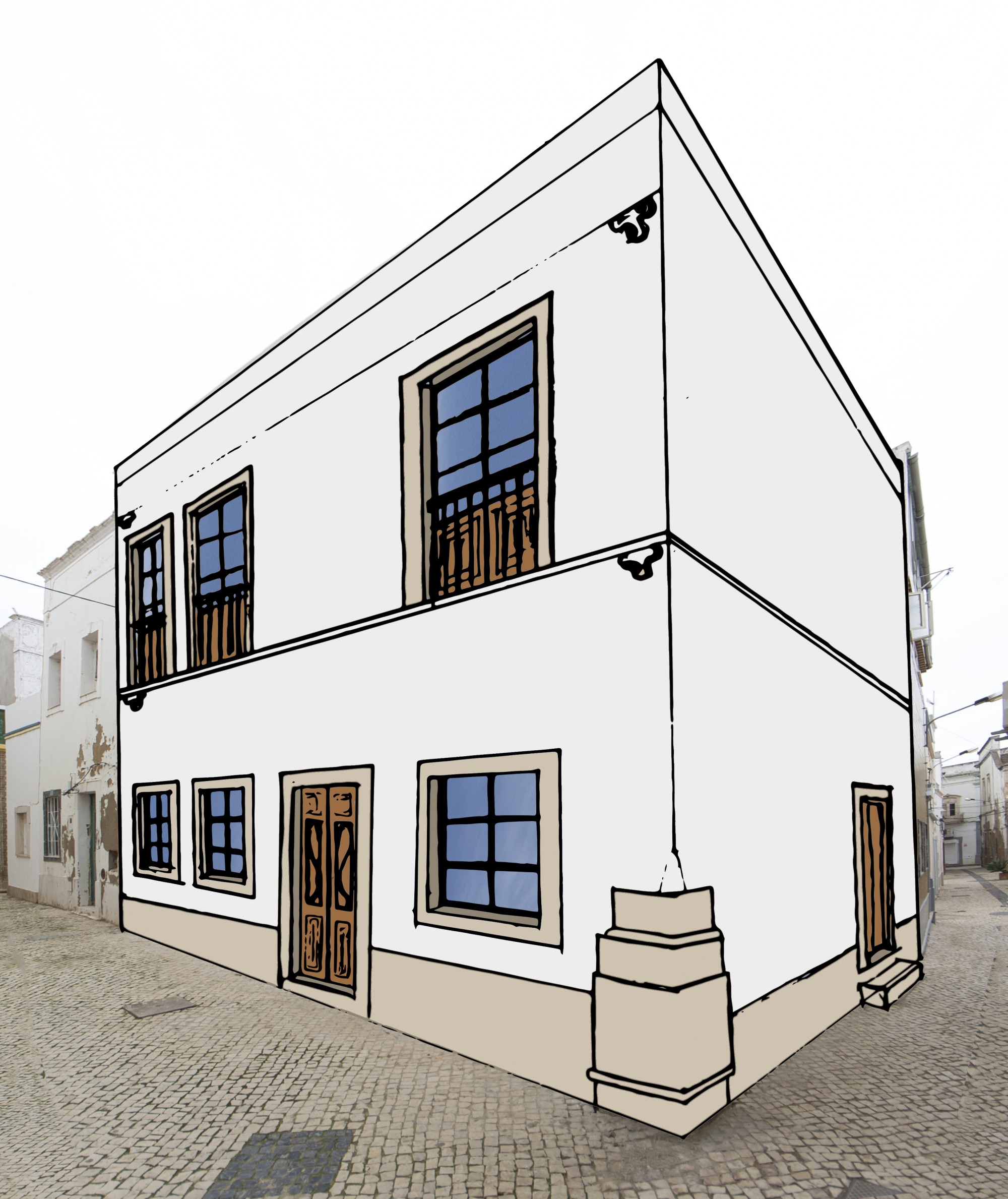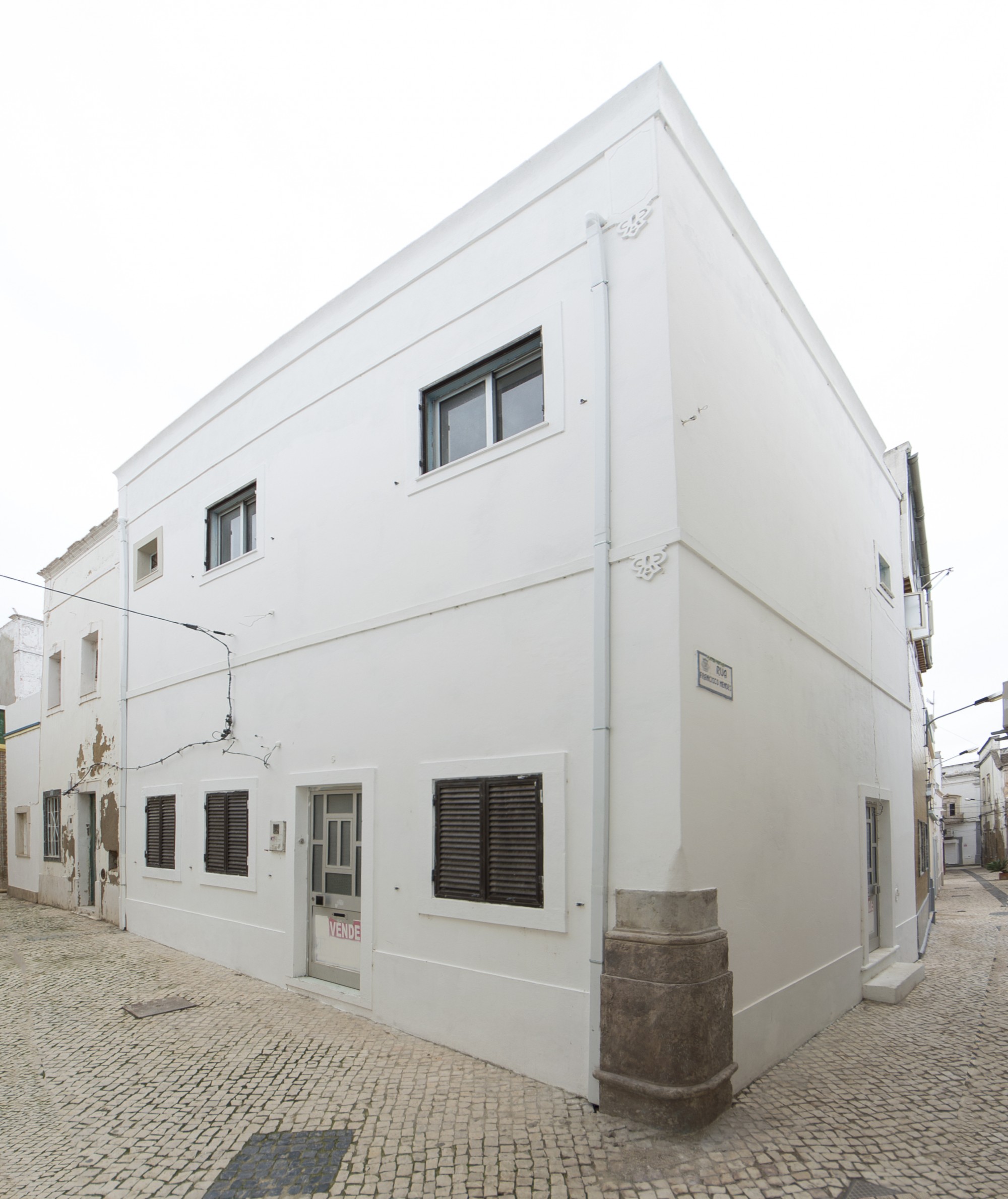 Edifício original / Original building.